Guide To Buying Barbell Collars
Barbell collars are safety measures that snap onto the barbell sleeve to keep the plates in place so that they don't slip off the bar or rattle during your lift. There is a strong chance that plates will slide off the barbell when the plates have an insert diameter that is a bit larger than the barbell sleeve's diameter or if you're loading plates almost up to the end of the sleeve.
Name
Best Barbell Collars Overall
Most Durable Barbell Collars
Best Barbell Collars For Heavyweights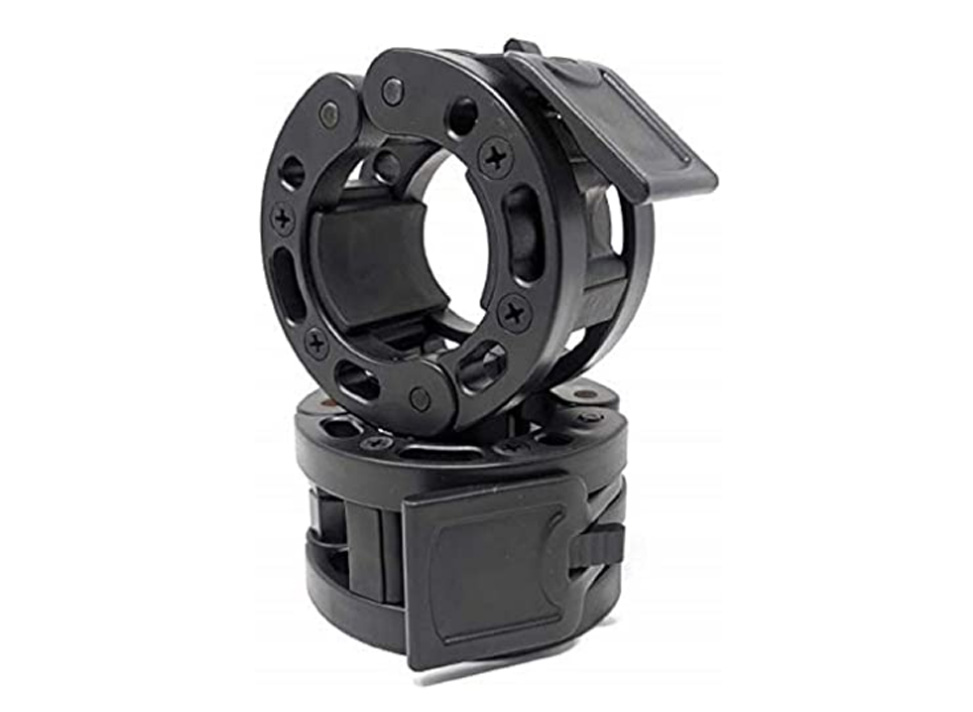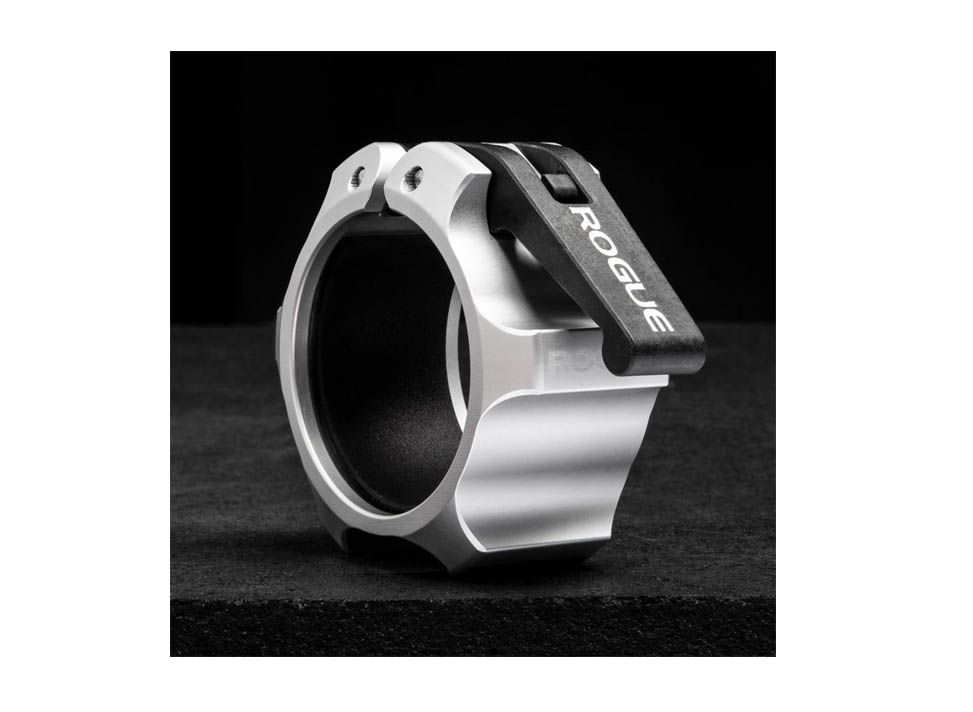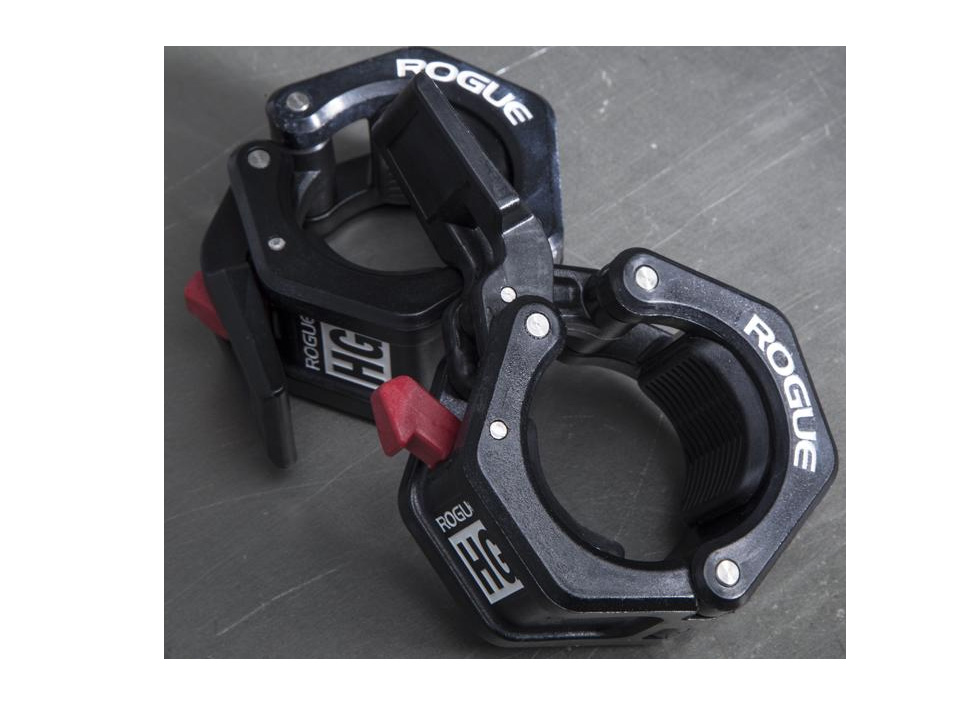 Price

14.95

50.00

40.00
What To Look for
03/02/2021
1
Don't go for clamps. Choose collars.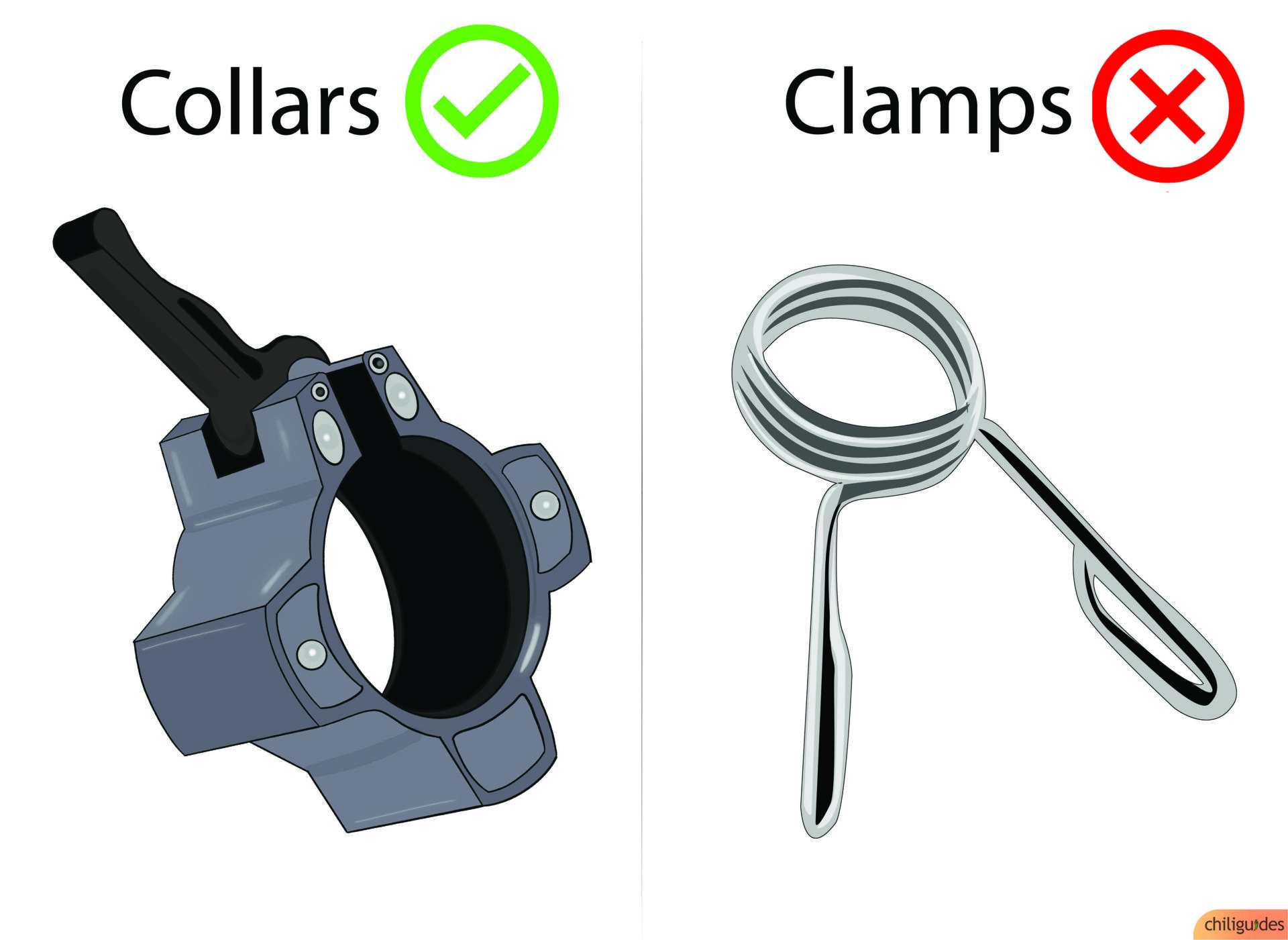 Clamps are basically spring-activated collars. They create a lot of friction between themselves and the barbell sleeve, making them a pain to use.
Collars are attached quickly by pressing down on a latch to have it snap onto the bar. You can effortlessly remove or snap them into place.
2
Go for simple designs over complex ones.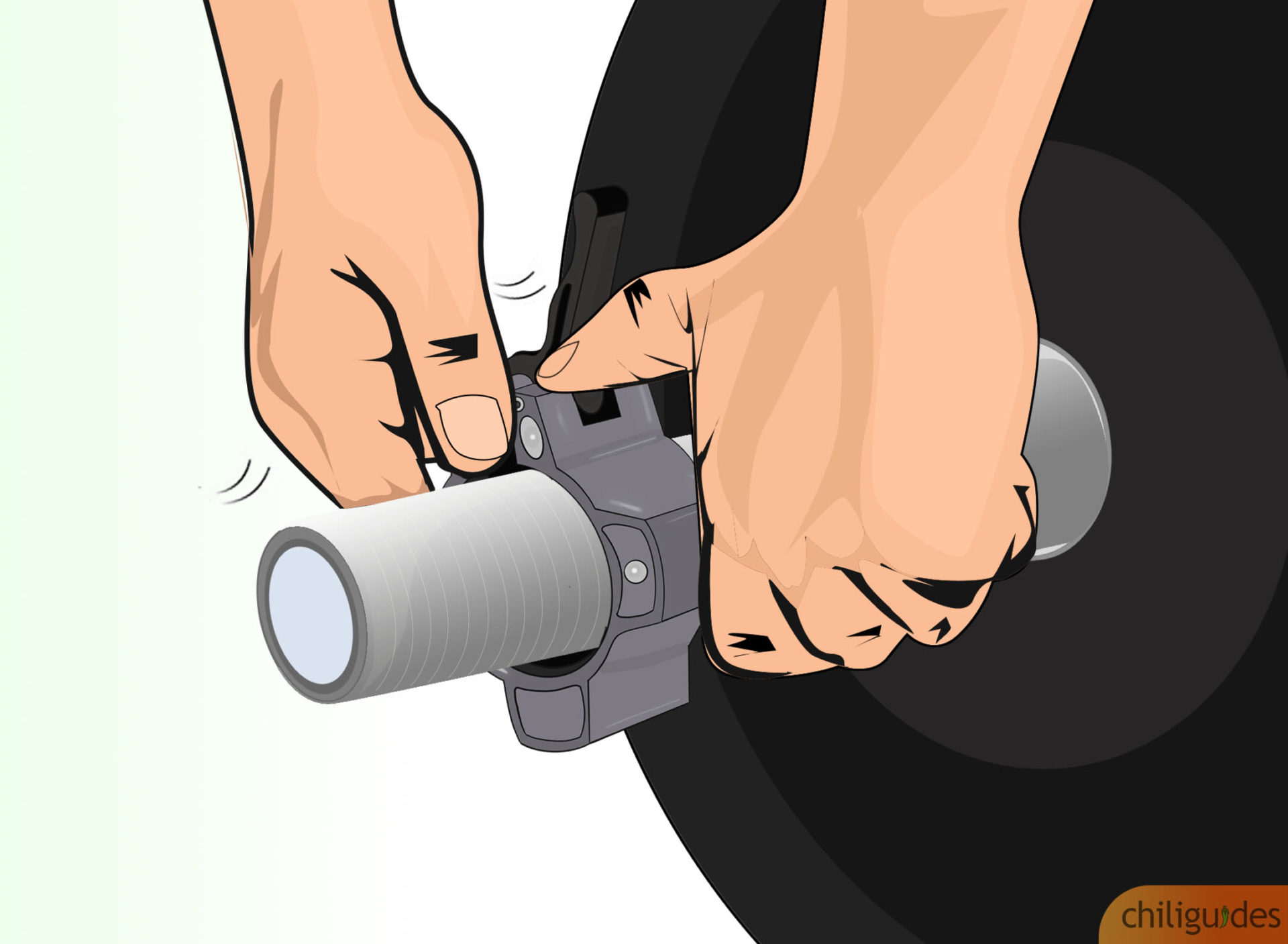 Look for collars with simple fastenings that don't require too much confusion and effort so you don't have to waste time in between sets while you're adding or removing plates.
However, a collar that will actually work and hold the plates securely still needs to be a bit difficult to latch onto the barbell as a collar that goes on too readily might be prone to slipping from its position.
3
Functionality is more important than looks.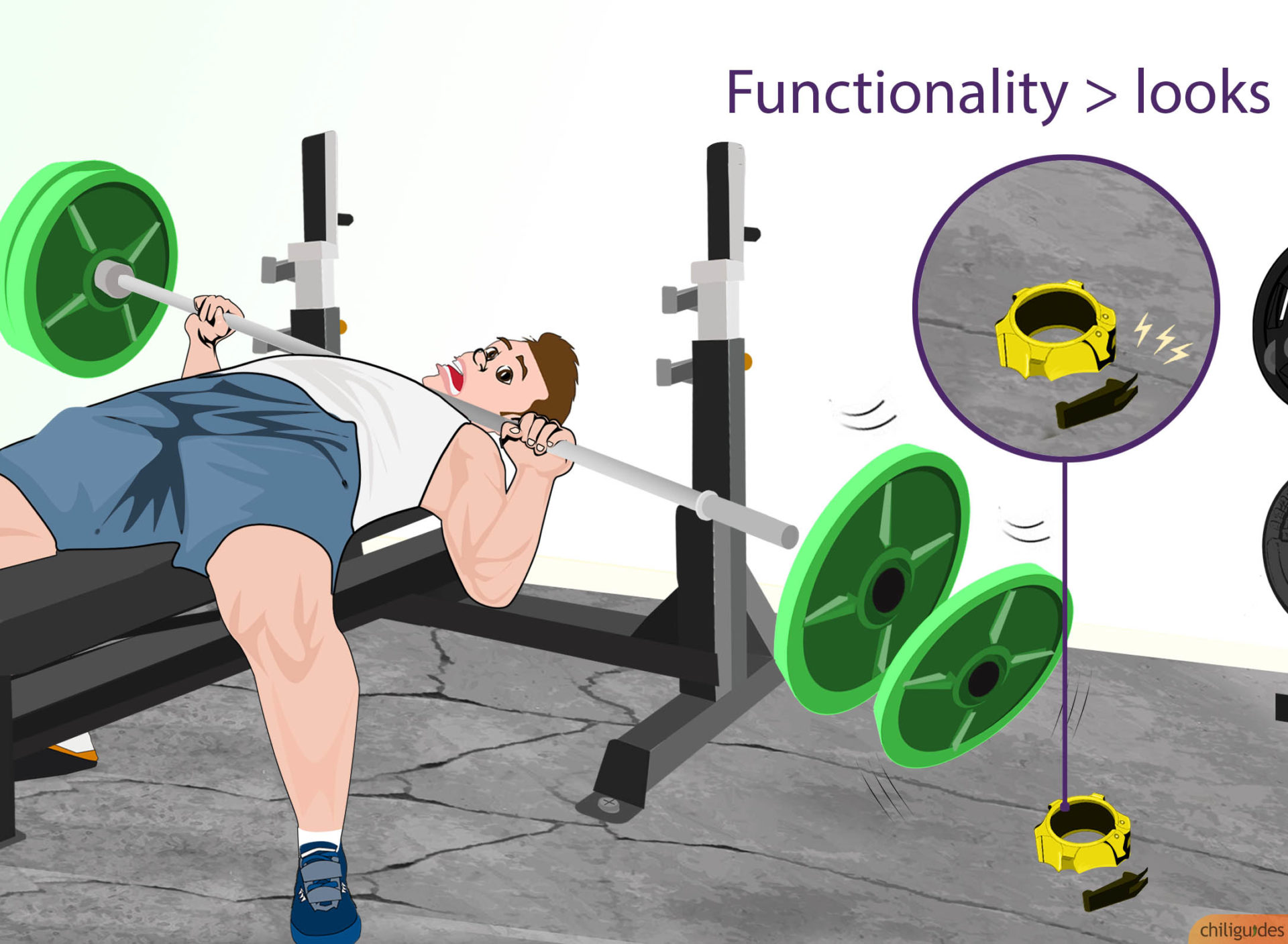 There are plenty of barbell collars that are very visually pleasing, but your goal is injury prevention, so do not trade functionality for design when considering a collar.
The collar needs to absorb the impact of falling every day, especially if you tend to drop the bar often, so inspect its durability and warranty.
4
Choose aluminum for weights under 275lbs and steel for anything more.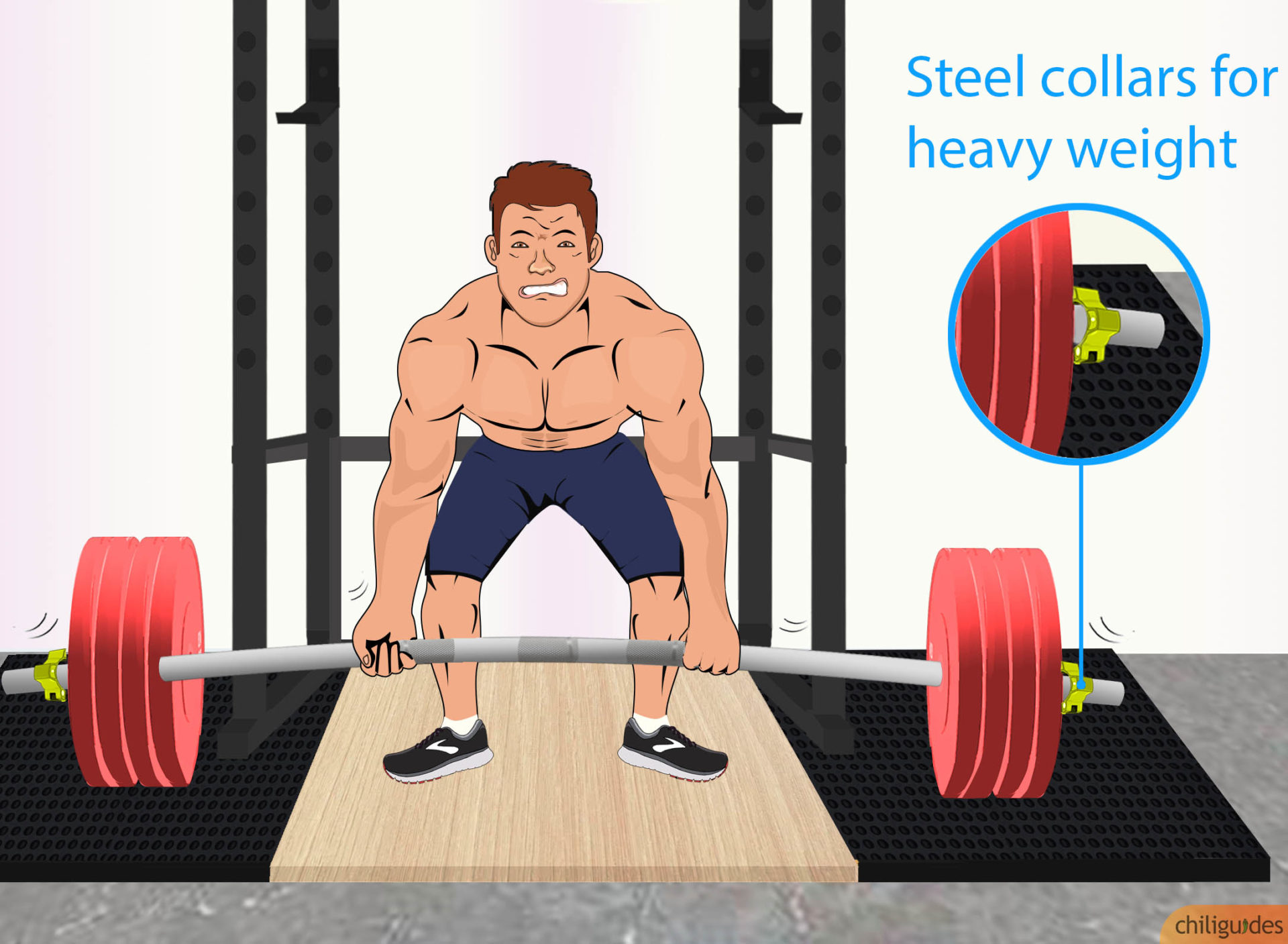 Aluminum collars are sturdy and light, so you can opt for these if you lift light weights, as they don't add a substantial amount to the overall weight.
Steel collars are long-lasting and fit snugly, but they can add as much as 5 pounds to the overall weight. Opt for these if you lift heavyweights.
Plastic collars are stretchy, and while they fit precisely, they might be prone to slipping, so they are not an ideal choice for lifting.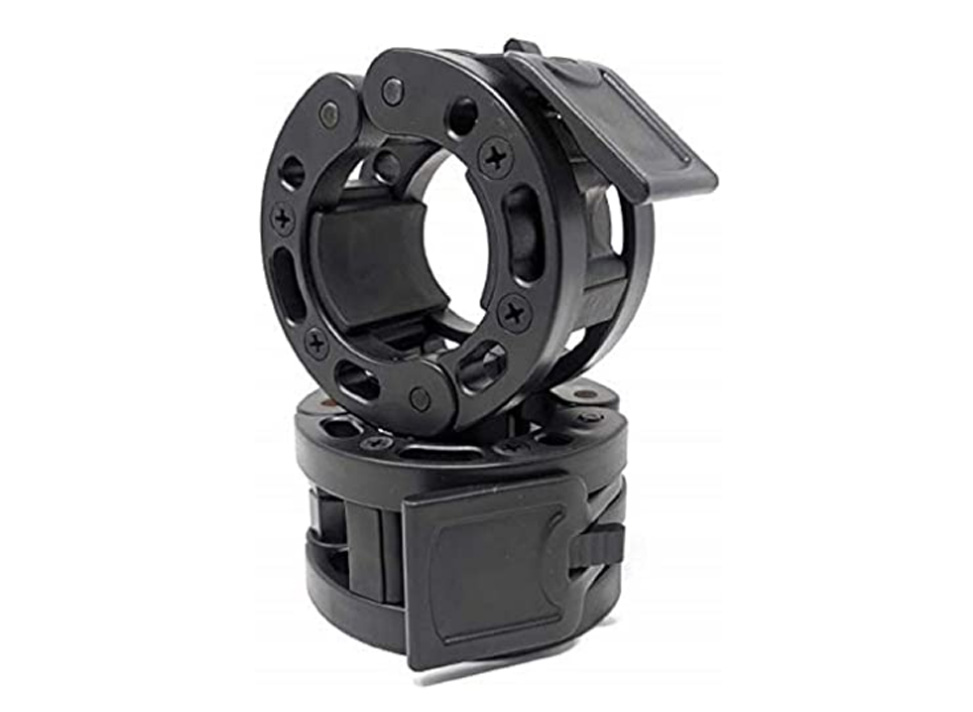 Best Barbell Collars Overall
Clout Fitness Quick Release collars
Rubber pads on the inside provide an incredible grip
Quick-release makes it very convenient to use
Good value for the price
Rubber lining compresses over time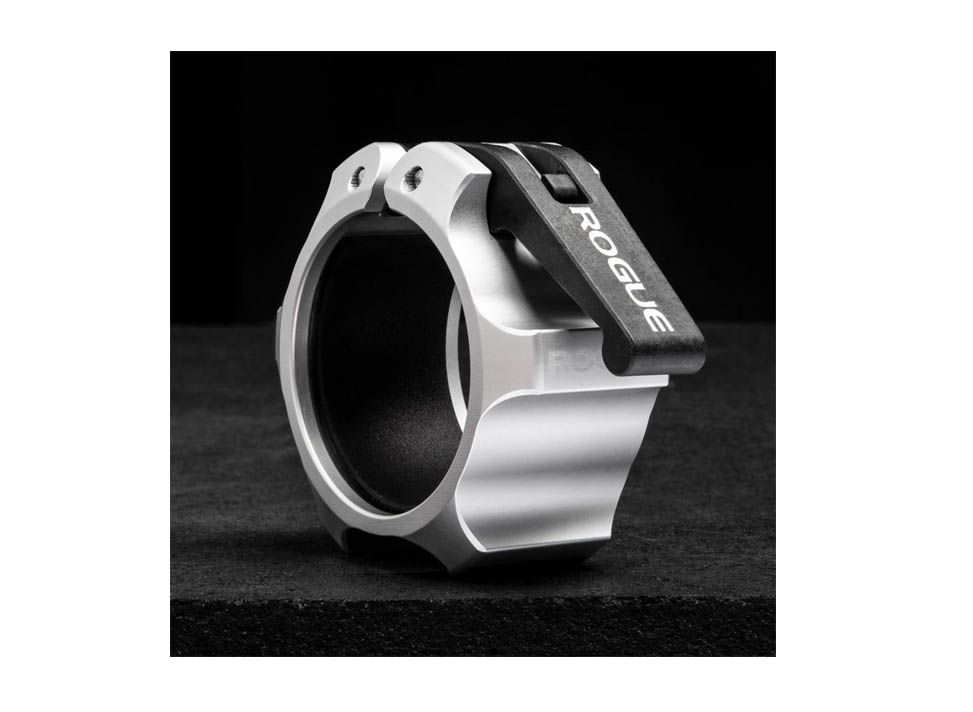 Most Durable Barbell Collars
Rogue's USA Aluminum Collars
Made with aircraft grade aluminium
Lock-open lever design saves time when using it
Rare combination of lightweight material with high tension capacity
Tension on the snap lever can hurt if it catches your finger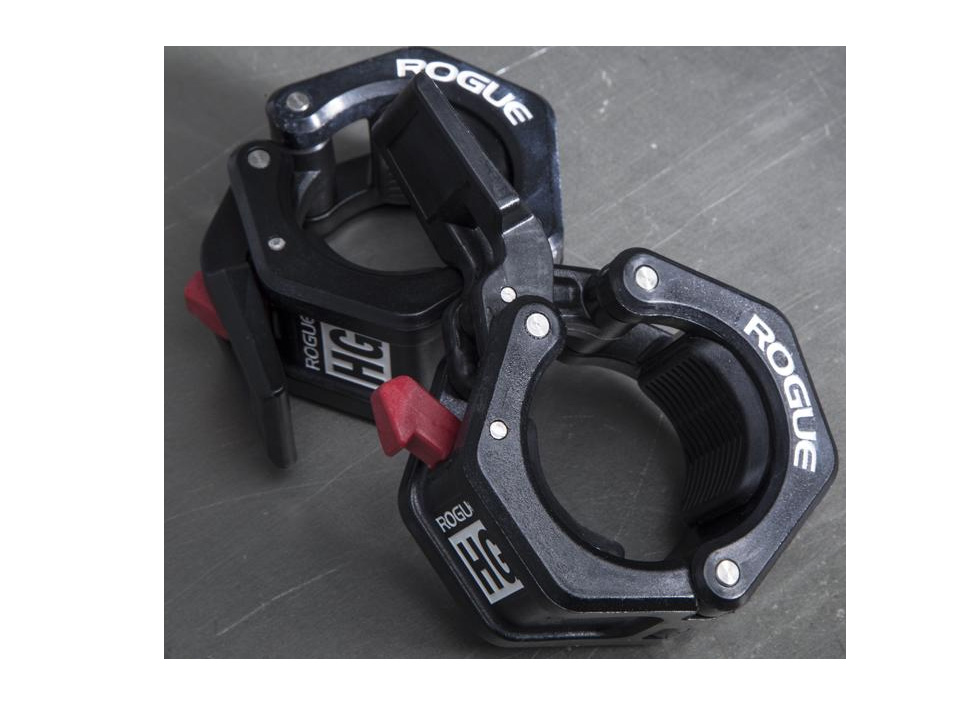 Best Barbell Collars For Heavyweights
ROGUE HG 2.0 COLLARS
Made from stainless steel for heavy duty lifting
Spring function allows for a quick snap release
Compatible with standard olympic and specialty bars
The lock can be abrasive and stiff
Common Questions
Q:

Do I need barbell collars?
A:
Yes, barbell collars are an absolute necessity for all home and commercial gyms.
You can use barbell collars to keep weights from sliding off a barbell during lifts.
Without barbell collars, you run a higher risk of injury.
The weights can crush your toes or the sudden decrease in weight while performing an exercise can cause muscle pulls.
Barbell collars become even more important as you try to lift heavier weights or perform high-intensity lifts, like the snatch or the clean and jerk.
Q:

Is there an alternative to barbell collars?
A:
There is no viable alternative to barbell collars, and you should invest in a decent set, to avoid injuries.
As the weight on your bar increases, it becomes more difficult to keep the plates from falling off the bar and no other alternative can help you with that except barbell collars.
Q:

Spring barbell collars vs barbell lock collars?
A:
Apart from being cheap, spring barbell collars offer no considerable advantage.
They are fragile and are very frustrating to use.
If you have small hands, you will struggle to squeeze them and they have a lot of friction between the collar and the barbell sleeve.
Barbell lock collars on the other hand are more durable, heavy and you can use them with specialty bars (Swiss bars, axles, farmer's handles) as well.
Lock collars are easier to use and you don't have to squeeze them, like spring collars.
Q:

How much do barbell collars weigh?
A:
The weight of barbell collars can differ depending on the material.
Aluminum collars can weigh less than steel ones, but they are not as durable.
A typical pair of barbell collars can weigh up to 5.5 lbs.
Q:

Are there Collars for weightlifting chains?
A:
Yes, there are special barbell collars that you can use to attach weightlifting chains to them.
You can use these collars to keep the weights from falling off your bar and attaching weightlifting chains to them.
They have a contraption, where you can attach the carabiner from the weightlifting chain.
This keeps both the weights and the chains attached securely to the bar.